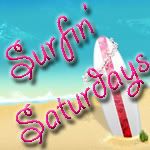 Surfin Saturday is a blog hop that changes every Saturday! Each week we will be surfin' a different social network. You will have to check back every Saturday to see where we will be! One week it may be a facebook hop and then the next an email hop! It will be lots of fun and you will get to meet new people and see old friends as well!
This week is GFC (Google Friend Connect)
If you follow me here, please just leave me a comment and I will gladly return the favor, and of course, follow you back!!