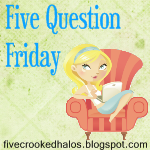 1.
What do you do when you have time to yourself?
lately when i have time to my self i have been blogging and reading blogs! its one of the things that has been keeping me busy and laughing and having fun!
2.
When you look out your kitchen window, what do you see?
the old mans cute little house across the street! its so cute he has cute flower boxes and just bought solar lights and has his grass cut and treated, its deff better than looking at a fence or gas station or something
3.
Who/What would you want to be reincarnated as?
A cat i think! I mean come on they sleep 21 hours of the day, and get fed and ppl clean up their poop, and cuddle them pet them. Who wouldn't want a life like that..?
4.
What is your biggest pet peeve about other people's kids?
When they think that because their mom isnt there or they aren't at their house, that things are different and the rules dont apply anymore.
Regular!!! Ewww Diet POP makes me want to throw up, the taste is so weird and syrupy sorta, eww id rather have water.