Man i Have really been slacking lately on blogging and such
Ive been in Blah moods, and plus i finally got a vehicle so me and the kids have been having fun,
we went to the marina where were live and toured the old Navy Boats, and a Submarine (pics and post to come)
Well Im going to start the week off with
Meet Me on Monday from Never Growing old blog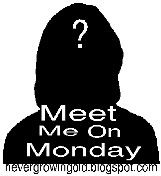 Questions:
1. What is your favorite all time movie?
OverBoard with Kurt Russell and Goldie Hawn I have seen this movie more time than i could even count! I LOVE LOVE LOVE IT! (and it came out the year i was born, its also one of my moms favorite movies to)













2. How often do you go over the speed limit?

All the time i sort of have a lead foot, i deff. have gotten WAY better since have kids and a couple stupid accidents under my belt...eekkk
3. What really gives you the creeps?
Honestly, weird creepy dirty old people. I dont really see them to often but they really creep me out for some reason, ive never really had a bad experience with one either, but yup im weird and thats what i could think of to tell you that creeps me out!
4. What is your favorite snack?
Oreos and Milk BABY!! mmmm i can and pretty much do eat like half the package in one sitting, between me and my other half we go through like 2 or 3 packages in like 2 weeks. It actually kind of gross how much we eat them. But DAMN they are sooo delish! O and i WILL NOT eat them without the being soggy with milk.
5. Would you rather be a dog named Killer or a cat named Fluffy?
If i was a dog named killer i would want to be a chihuahua or something little like that!! HAAHa But really a cat named fluffy? what a generic name., LOL
OK Now its you turn Go link up and answer the questions