Friday are fun because there are so many fun blog hops,
and lots of new people to meet, and new blogs to stalk.
So if your new here, Thanks for checking me out
Make sure you let me know you visited so i can do the same!
Happy Friday everyone!!!!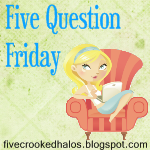 1.
Have you ever visited another country?
I live in Buffalo NY which is about a 15 min car ride to Canada! So yes I have been to another country many times, although us Buffalonians don't really think about it as going to another country!
2.
Where is the strangest place you have ever been?
Hmmm This is really hard, let me think.......Ok im gunna have to pass on this one, cause i have no idea, if i think of one throughout the day i will come back and fix it
3. What is your favorite season?
The Fall for sure! No question about that! I hate the winter, well sorta hate it, once again I live in Buffalo we have crazy winters, so its just a way of life here, i just hate being cold, and i hate being super hot in the summer! So the fall when i can throw on some jeans and a T-shirt maybe a hoodie I am a happy camper!
4.
What one song will always cheer you up?
Well whatever song is my favorite at that time.. lol so right now my favorite song Is Airplanes By BOB and Hayley Williams.
5.
What Disney character do you resemble most?
Wow this is a different one huh? Once again sorta difficult, id say an umpalumpa but thats not Disney is it? OK so maybe a dwarf from snow white, let me google and see which one i like! Ok so Dopey is cute and well with the sleep that i
dont
get i prolly look all dopey a good percent of the day! and besides look how cute he is!!!