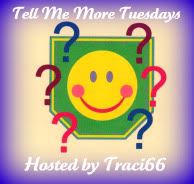 I think ive done this before, but i dont remeber and dont feel like checking
But when i seen the questions for this week i just had to play along
cause who doesnt love questions like these
1. Can you sneeze and fart at the same time? Without peeing yourself?
I honestly dont know! Ive done both a lot but cant remember if Ive done them together, and Ive really only peed my pants twice, and that was from laughing so hard
2. Have you ever farted in the tub?
Im not a bath person, maybe when i was a kid, every kid does that right?
3. When was the last time you cursed?
Ha i kind of have a really bad potty mouth! ugh i know
4. If you were a superhero, what would your name be?
Traci said psycho mom and guess what thats what i would of put as well, cause sometimes thats what i feel like! AHHHHH
5. Use 1 word to describe yourself.
Misserable
(haha)
Your Turn! Go Link up with Traci66 and tell everyone you answers!!!